Designed for Tough Work in any Environment: Dragflow Amphibious Dredgers
When it comes to innovative, versatile dredging equipment, Dragflow has long been an industry leader. FITT Resources is proud to supply a range of Dragflow heavy duty pumps and dredgers, including the DRM85/160E22 amphibious dredger, across Australia and New Zealand.
This revolutionary dredging machine is able to move across any sort of terrain like an earthmover, but is also able to float on water like other dredgers in the Dragflow range. The DRM85/160E22 is also ideal for use in soft soil, muddy terrain, shallow water and swampy ground, making it one of the most versatile machines that Dragflow make.
Able to reach remote locations that other sorts of dredgers can't, the Dragflow DRM85/160E22 amphibious dredger features two tracked pontoons plus an additional central floater, meaning it floats in any body of water with great stability. It is also equipped with 1.4m polymer tracks that provide stability and grip, as well as smooth transit, when moving across all types of surfaces.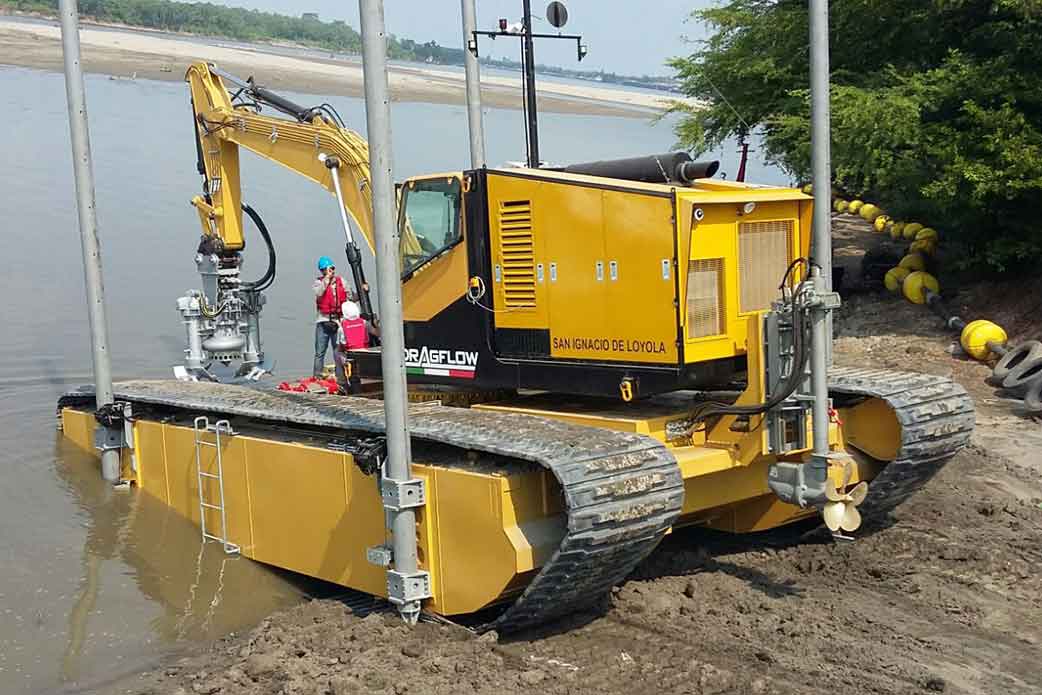 The Dragflow DRM85/160E22 also has a range of other features that make it such a powerful and versatile piece of machinery. These include a completely customisable hydraulic circuit, as well as a hydraulic arm that features a depth measuring gauge, plus the capability of installing other hydraulic tools. There are also four steel cable winches that are used for moving and fixing the dredge, plus stabiliser spuds, and there is the option of adding a helix propellor.
The DRM85/160E22 amphibious dredger is equipped with a 350 m3/h – 800 m3/h capacity submersible dredge pump with a 200mm – 250mm discharge diameter that is designed to handle 60mm–90mm solids. This is paired with a 700mm excavator featuring detachable regular, sharp or wide head teeth, and powered by a radial piston hydraulic motor. There is also an optional jet ring system available.
Operator comfort and safety are also features of the Dragflow amphibious dredge, with a cabin that is equipped with both heating and air conditioning, as well as equipment status instrumentation and emergency stop controls.
Overall, the versatility and durability of Dragflow amphibious dredgers make them ideal for use in a variety of Australian working environments, while the quality of the design and engineering means reduced ownership costs and longer operating life.
Dragflow Dredgers Australia
FITT Resources supplies a range of Dragflow heavy duty pumps and dredging equipment suitable for use in a wide variety of industries and applications, including mining, civil construction and engineering, land reclamation, flood prevention and ship building.
Contact FITT Resources on 1300 653 229 or email contact@fittresources.com.au and members of our expert team will be happy to talk you through the benefits of working with Dragflow.