FITT Resources' Pump Servicing Facilities Across Australia
FITT Resources specialises in providing pump servicing across Australia, in both major industrial centres and more remote locations. Our network of workshops and repair facilities, combined with our wide-ranging on-site pump servicing capability, means we can overhaul and repair all types of pumps, compressors, turbines and rotating equipment wherever in Australia you are located.
Our team has the experience and engineering skills to improve the operating reliability and life-span of all types of multi-stage pumps, self-priming pumps and wastewater pumping systems. We are committed to our aim of becoming our customers' number one choice for engineered products and services, through delivering quality and reliability, and we are always seeking continuous improvement. As a further part of this commitment, we also honour all pump manufacturer warranties.
When it comes to pump servicing, our aim is to offer more than just repairs and overhauls that deliver optimum operational capacity; we also work in partnership with our customers to find ways to reduce the total cost of ownership through delivering long-term equipment reliability that minimises damaging downtime. Our pump servicing team also aims to deliver reduced energy use, which in turn leads to both greater efficiency and lower operating costs.
Our Australian Pump Servicing Facilities
At our Australian pump servicing workshops we have a highly experienced team of project managers, engineers, technical and trade specialists, as well as a range of equipment and facilities, that enable us to carry out comprehensive pump rebuild services, along with complete pump overhauls and repairs.
FITT Resources Reliability Centre
The FITT Resources Reliability Centre is located in Lisarow in NSW and is a fully integrated 2,500m2 rotating equipment workshop that features submersible pump testing, service and overhaul facilities, a horizontal and vertical borer, blasting and coating equipment, a 10-tonne lifting capacity, and a close loop test rig.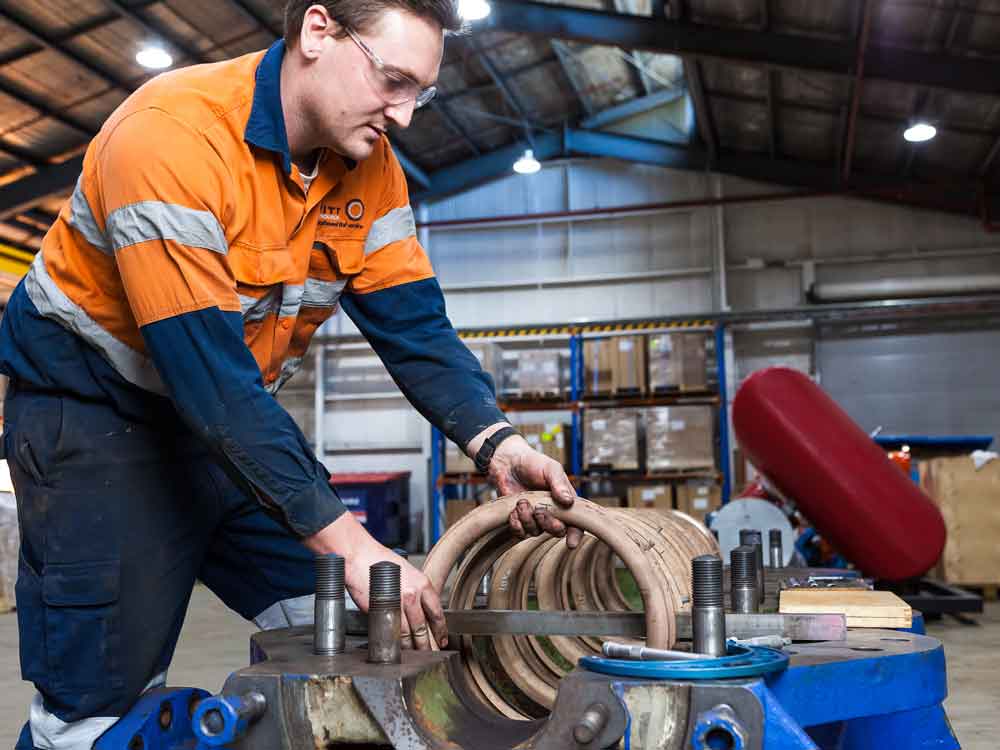 FITT Resources Queensland Service Centre
The FITT Resources Queensland Service Centre is located the heart of Queensland mining and manufacturing industries in Gladstone. Our team here is geared up to carry out a range of pump servicing, overhaul and repair work, along with equipment assessment, condition monitoring and re-engineering.
FITT Resources elsewhere in Australia
As well as our two main workshops in Lisarow and Gladstone, our Sydney Site Services workshop in Artarmon is also equipped to take on a range of pump servicing, refurbishment and repair work on pumps and fans of all types.
FITT Resources also has representatives based in Western Australia, South Australia, Victoria and Tasmania, so wherever your business is located in Australia, you have access both to our facilities and our highly experienced team of pump servicing technicians.
On-site Pump Servicing Across Australia
FITT Resources undertakes on-site pump servicing, repairs and maintenance across Australia for operators in all industries and sectors.
Our field and on-site pump servicing team carries out rebuild, refurbishment, overhaul and commissioning services for all types of pumps, including shut down maintenance and installation services. We can provide mobile pump repairs wherever in Australia they are required, which helps to reduce delays and downtime, saving you money and getting your valuable plant and machinery up and running again sooner.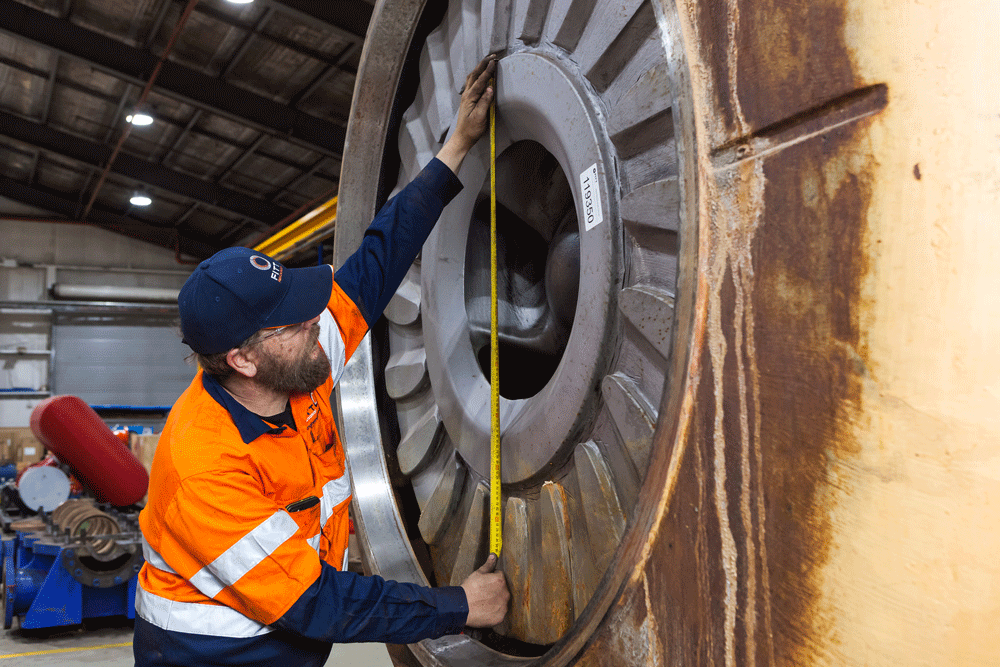 Comprehensive Australian pump servicing, repair and refurbishment
Pump servicing requires a wide range of capabilities, and FITT Resources has the know-how and facilities to perform all types of pump servicing requirements, both on-site and in our workshops.
Pump protective coatings
Pump efficiency and ongoing effective operation can be significantly enhanced through the application of protective coatings. These are a practical way of protecting pumps from chemicals, erosion and abrasion, or other damage caused by demanding Australian work environments.
Adding a protective coating to a pump can also extend its operating life and increase efficiency. It helps to reduce the frictional resistance to flow, improving the hydro-dynamic conditions of the interior, thereby reducing wear. Protective coatings are also a relatively straightforward way of reducing energy use through increased efficiency, and extending the lifespan of a pump.
Pump monitoring and maintenance
It is essential for a pump's ongoing efficiency and effectiveness that regular monitoring and maintenance is carried out. If issues such as abrasion, corrosion and pressure build-up are not tackled early on, they can lead to serious operational problems and costly downtime.
As part of our pump servicing capability, we can help mitigate the risk of pump failure through monitoring changes in system conditions, enabling preemptive remedial action to be taken before wear or damage knocks a pump out of service. Our team of technical specialists undertakes regular pump monitoring and maintenance to ensure that potential problems are spotted early on, and that the issues that most commonly affect pumps, such as exposure to corrosive or abrasive materials, do not have a chance to take hold.
Pump optimisation
One of the best ways in which to increase a pump's overall efficiency and reduce operating costs is by addressing the amount of power produced by a pump when compared with the amount of power it consumes.
Our team of pump technicians helps operators to optimise pumping capability by ensuring pumps are running at their best efficiency point (BEP) through identifying, understanding and eliminating unnecessary losses in energy efficiency, while at the same time reducing consumption and enhancing reliability. This can involve, for instance, examining the whole set up of a pumping system, and then replacing components that are negatively affecting delivery.
The FITT Resources Advantage
Attitudes across many industries in Australia have changed with regard to refurbishing existing plant and trying to extend its operating life, as opposed to simply replacing it. Whether this is because many operators no longer have their own in-house teams of technicians who are qualified to undertake demanding maintenance and repairs, or whether it's the result of an increase in operating costs and a corresponding tightening of company purse strings with regard to plant procurement, is difficult to say.
However, what is clear is that there has been a shift across a variety of Australian industrial sectors away from employing their own pump servicing teams to working with aftermarket pump businesses like FITT Resources.
The advantage of working with FITT Resources is that you have all of the benefits of having an in-house technical team without the ongoing costs. That's because we work in partnership with you to extend the operational life of pumps and other plant, as well as providing ways in which you can reduce the cost of ownership. Our diverse range of skills and capabilities means that we can provide a one-stop engineering and pump repair service that meets the needs of a wide variety of operators, and can provide our services both on-site or in our extensive workshop facilities.
A further advantage is that because we have specialist capabilities in all aspects of pump maintenance, water services, turbomachinery, sealing technology and dewatering equipment, we have both skilled personnel and equipment beyond that which most operators could reasonably expect to have, and so we can take on a more diverse and challenging range of work than the majority of in-house teams, and can therefore offer comprehensive, total solutions.
Call FITT Resources on 1300 653 229 or email us at contact@fittresources.com.au. Alternatively, you get can get in touch with the members of our team based in NSW, Queensland, Western Australia, Victoria, Tasmania or South Australia.