New Addition to the Chesterton Split Seal Range
The new Chesterton 442C XL cartridge split seal, launched in June 2021, is now available in Australian and New Zealand through FITT Resources.
To introduce this exciting new addition to the industry-leading 442C range of cartridge seals, FITT Resources is able to offer Chesterton 442C XL cartridge split seals at an exclusive discounted price for the remainder of 2021.
To find out more, please contact Mathew Howell in our Fluid Sealing Division on 0428 731 732, or email m.howell@fittresources.com.au.
Designed for larger pumps and rotating equipment
The Chesterton 442C XL cartridge split seal is designed specifically to fit larger pumps and rotating equipment, and is suitable for shafts ranging from 5.00″ (125 mm) up to 7.75″ (195 mm). 
It includes a number of standout features that benefit operations in the water and wastewater industries.
Most notably, cartridge split seals can be installed around the equipment shaft, avoiding the need for costly and time consuming disassembly. This limits downtime as well as mitigating potential safety risks, as it reduces the exposure of personnel to operating equipment.
In addition, both the 442C and 442C XL are specifically configured to be repaired in the field and so will generally not need to be taken off site. 
To simplify installation, and improve efficiency and workplace safety, features of the 442C XL cartridge split seal include:
A spring carrier plate that reduces the potential for installation errors while protecting critical components;
Automatic self-aligning faces that load automatically without the need for manual handling; and

 

Interlocking rotary face which positively locates the face halves and delivers greater sealing reliability.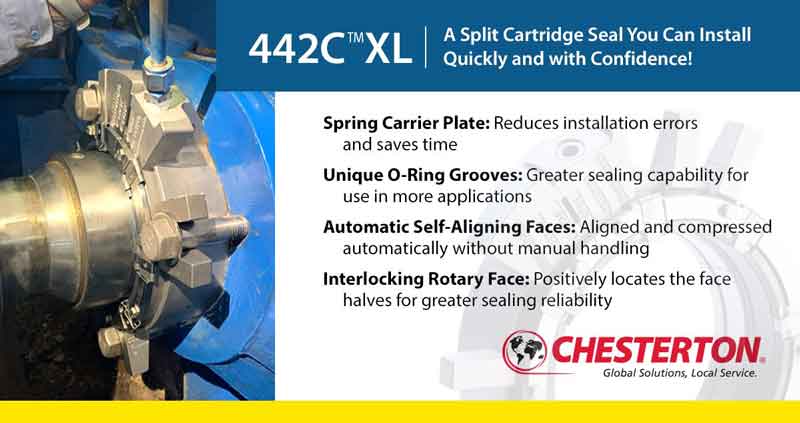 Split mechanicals seals for water and wastewater industry
Designed for use in the water and wastewater sectors, as well as the power and chemical industries, the 442C XL split seal can be used in a diverse range of applications, including river water intake pumps, boiler feed pumps, slurry pumps and large pumping systems.
10 Benefits of using 442C mechanical split seals
Both the Chesterton 442C and 442C XL split seals offer operators a significant range of benefits:
An adjustable gland that can be easily adjusted to suit your equipment bolting pattern;
Interlocking face alignment;
Spring lifter and spring carrier to provide protection and security for seal faces during installation;
Integral flush ports 180° apart for maximum flushing and venting capability;
Captured fasteners that remain in the gland and rotary holder during installation;
Non-clogging finger springs that apply consistent loading and adjustment;

 

Balanced seal design that generates less heat at extreme pressures;
Automatic centring that ensures concentric seal face operation;

 

Compact gland design that fits more equipment without the need for equipment modification; and

 

Captive o-ring groove to maximise performance and extend seal life.