Top 10 problems discovered in pumps in regional Australia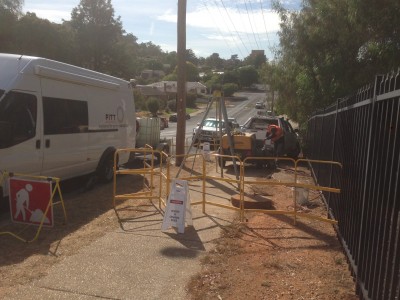 Richard Arthur, Head of Regional Servicing at FITT Resources sheds light on ten of the most common problems discovered in pumps in regional areas, and what steps councils and pump station owners can take to avoid them, or reduce their impact.
        1. Opening up of hydraulic clearances
The most common problem discovered in regional pumps is the opening up of hydraulic clearances. As hydraulic clearances increase, blockages or 'ragging up' of both the pump and seal can occur.
Depending on the pump type, clearances can occasionally be adjusted on site, otherwise the pump must be removed and delivered to a workshop to undergo a complete overhaul.
        2. Leaking mechanical seals
When carrying out service inspections on sewage pump stations, the oil in the pump is examined and the mechanical seal is pressure-checked. If oil in the pump has begun to emulsify, this indicates that the mechanical seal is starting to fail, and allowing water to leak into the system.
A service inspection at the right time could identify this problem before the seal fails completely, saving a large amount in maintenance time and associated costs.
        3. Build-up of grease in sewage pump stations
A build-up of grease can occasionally be found at sewage pump stations, and this can lead to failure of the pump and/or system.
If there is a build-up of grease, there will most likely be a build-up of hydrogen-sulphide acid. Hydrogen-sulphide acid is highly corrosive and can begin to deteriorate the surrounding concrete infrastructure. It can also potentially corrode any steel work at the pump station.
Grease build-up can also affect float switches and therefore affect the control system of the pump.
To breakdown the grease and reduce hydrogen sulphide deposits, an upstream chemical dosing system can be installed. This will also reduce odour at the pump station.
Concrete protection work can also be undertaken by applying protective coatings to the site's concrete assets, neutralising acid attack and ensuring that further corrosion does not occur.  
It is advantageous to have a single team that can provide both services, meaning that councils do not have to hire separate teams to carry out the servicing and coating works.
        4. Misalignment of the pump to the motor  
Misalignment of the pump to the motor is a common problem found in water pump stations. It is often caused by a worn coupling or incorrect alignment during initial installation. If either the pump's suction pipe or discharge pipe are not installed in exactly the right place, they can gradually pull the pump out of position.
If this happens, and the pump becomes misaligned to the motor or the pipework, excess force is placed on the pump bearings and couplings. This will eventually result in premature pump failure.
To rectify this issue before the pump fails, laser alignment equipment can be used to carry out precise alignment work.  
        5. Leaking pump gland packing or mechanical seals
Water pumps can have leaking gland packing or mechanical seals. If this problem is caught early enough, the high costs associated with an overhaul of a failed pump can be avoided.
Gland packing is a little easier to replace, and it cannot fail catastrophically like a mechanical seal. However, excessive leaks from gland packing can cause water to flow into the pump bearings, and this can cause early failure.  
        6. Valve or valve packing failure
Both sewage pump stations and water pump stations can be subject to valve or valve packing failure.
The most common problem found during valve checks are seized inlet valves. Inlet valves allow the council to isolate the station's wet well, however, due to little exercise, they can commonly cease to work and therefore stop the council from being able to isolate that station.
At all pump stations there is also a non-return valve and a gate valve, which again, are used for isolation. Quite often these valves are also in a poor condition, and must be replaced.
Periodic maintenance and inspection can assist in keeping these assets in functional operation.
        7. Issues with electric motors
Occasionally issues with electric motors are discovered at pump station inspections. Sometimes water is found to be entering the motor or the bearings are running hot.
Temperature tests of bearings can be carried out during inspection as well as re-greasing of the bearings. Otherwise, a time can be scheduled to remove the motor and take it back to the workshop for more intensive bearing work.  
        8. Control panel electrical problems
During servicing, electrical problems within the control panel are also checked. If an error is found, the council should be notified to seek electrical works.
        9. Deterioration of electrical supply cable insulation rubber and cable entry glands
At sewage pump stations, the rubber insulation around the pump's electrical supply cable can swell overtime, causing the rubber to deteriorate. It can also be cut or squashed on installation or during periodic maintenance. This can lead to water ingress into the pump if not caught early enough, and result in stator burnout.
Because of this, all damaged rubber needs to be replaced and any damage to the pump must be attended to during servicing.
         10. Infrequent servicing inspections
It is recommended that servicing inspections for sewage and water pump stations are carried out annually to keep pump stations in optimum condition.
Councils are very good at making regular servicing schedules for their pump stations, however, sometimes they are limited in manpower or resources. Unfortunately, this stops them from having the capacity to carry out annual servicing with detailed inspections.
Final top tips for keeping your pump station at peak performance
Choose the right pump from the start and ensure that it is correctly installed, aligned with the motor and maintained.

Choose qualified staff or a servicing contractor to carry out detailed annual asset inspections to avoid catastrophic pump failure.

Act on recommendations before the problem gets worse.
For more information on FITT Servicing, or to book site servicing for your pump station, contact Richard Arthur on 0402 993 806, or contact the FITT Resources office on 1300 653 229.