Repair of Thompson 6"/7" CM Horizontal Potable water pump
By Daniel Hechter
The Thompson 6"/7" CM horizontal potable water pump was removed due to shaft seal leakage.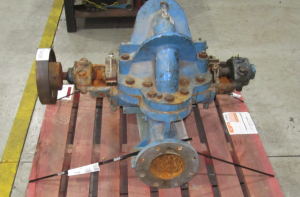 Stage one: assessing the pump
The pump was equipped with Chesterton type 221 split seals, which had reached the end of their life and started leaking. The seals had been in service with the pump, probably in excess of ten years.
Instead of simply performing in-situ repair, the client opted for complete pump rebuild package.
Before beginning repairs, FITT Servicing completely stripped and inspected the pump. The pump shaft was found to be bent outside of tolerance – it was beyond repair and needed replacement.
They also found that internal wear ring clearance was above specification and needed reclamation. Internal corrosion and erosion were present, which would further affect pump efficiency.
Stage two: replacements and repairs
The existing pump shaft was reverse engineered and replaced. Wear ring combination was changed from Bronze/Bronze to a Stainless Steel/Bronze combination, allowing effective hardness difference to prevent galling during operation as well as give the casing wear rings another lease of life with reclaimed clearances.
FITT's servicing team coated the pump casings with ceramic epoxy resin on both surfaces. This was done in order to reclaim lost surface wear and abraded areas, as well as extend the run life of the pump. The coating product used is potable water approved.
The pump rotor was installed, running clearances were verified, and location to casing adjusted to centre, which ensures the best performance.
The old 221 type split seal was replaced with a type 442 new generation split seal, which in future will allow for easier in-place seal maintenance and replacement without the need to remove the pump or rotating element.
Usually, maintenance and assembly time for this type of split seal can be accomplished within less than an hour by means of a spare parts kit, which contains all the required consumables, screws, O-rings, springs and faces.
Post repair pitfalls
FITT servicing pump rebuild and refurbishment is only one component of the total maintenance cost. Re-installation and return to service should be viewed as an equal or possibly more important stage of the process.
Ensuring the equipment is installed correctly and functions to design is very important and could prevent costly delays and problems further on.
As a minimum, customers are advised to perform the following:
Install pump without induced flange stresses and correct gaskets
Performing soft foot check and laser alignment is a must
Confirming motor rotation before start-up (embarrassing but it happens)
Confirm pump duty and performance on commissioning, suction/discharge pressure and flow recorded ensuring pump operate efficiently
Perform vibration check and benchmark for future comparison or trending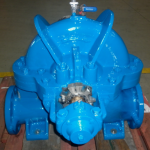 Completing the above tasks is crucial to ensure that the equipment is operating as designed and deliver the best return on investment.
The option of delivering a complete remove/repair/install package to customers is becoming an increasingly frequent practice. It ensures that job responsibility is clearly defined through the return-to-service process.