Repair of K&L vertical 16" MFD single stage pump
Q – How do you return a vertical single stage pump dating back to the 1960's in fabrication, design and installation back to life?
A – With a focus on process optimisation, and if you do it right, you can get increased efficiency too.
Stage one: assessing the pump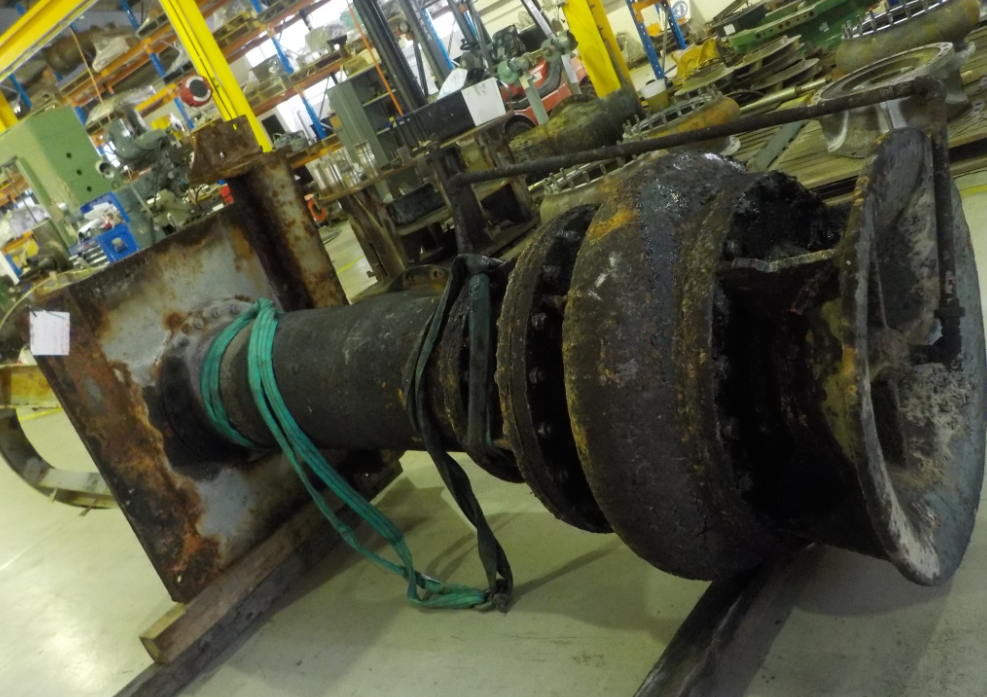 Photo of 16" MFD single stage pump on arrival
The pump was removed due to excessive bearing vibration and "looseness" which indicated a possible bearing fault.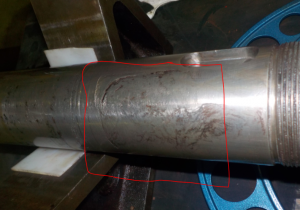 Photo of fretted area on shaft.
Before beginning repair work, the pump was completely stripped. On closer inspection, fretting was found on the shaft thrust bearing holder landing. This would be the cause of an undersized journal and "looseness."
Wear ring clearances, normal inter-stage bush and sleeve wear was also found above tolerance.
Stage two: replacements and repairs
Fretted shafts usually require replacement, however due to cost and lead time constraints, a metal spray option was selected and applied to the journal. This enabled the shaft straightness to be brought back within tolerance as well.
Pump casings were coated with ceramic epoxy resin on both surfaces. This was done in order to reclaim lost surface wear and abraded areas, as well as extend the run life of the pump.
Mr Daniel Hechter, Head of Servicing at FITT Resources, said the team then upgraded the bronze sleeves used for the pump casing bushes to Vesconite or Vesconite Hi-Lube.
"Over the years, the change in pump bush material has revolutionised repair and upgrade solutions across various pump types and pumped mediums.
This has resulted in extended run times and reduced shaft sleeve wear in various applications."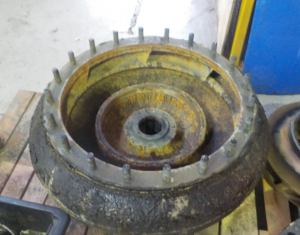 Photo showing pump volute casing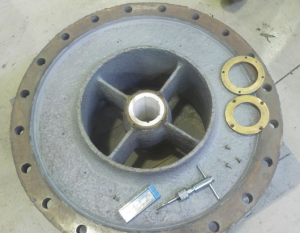 Vesconite Hi-lube bush fitted to suction support bearing location
"This not only lowers maintenance costs, but also increases the pump's overall efficiency.
"It's a fantastic feeling being able to return an old pump to its owner in a completely new condition, let alone with an improved efficiency and run life."
Although these efficiency savings may seem small, says Mr Hechter, they quickly add up to produce huge cost savings.  
"An example is a pump with 250KW motor load and an electricity tariff of $0.08/KWh. An efficiency saving of just one per cent could result in an annual saving of up to a $1,750 off the energy bill.  
"Now imagine a 4-5 per cent efficiency saving on your existing pump and the impact that will have on your operating budget!" says Mr Hechter.
Efficiency savings must also be viewed as a whole with regards to the pump's hydraulic system.
Various small 'quick win' opportunities could exist which would positively affect the client operating cost with a fast payback.
Taking a closer look at reclaiming run clearances, using epoxy coatings and rebuilds of equipment, choosing the right seal for the application and minimising the required flush water for the pump, you can find a whole lot of efficiency gains that can add up to give a big overall efficiency saving.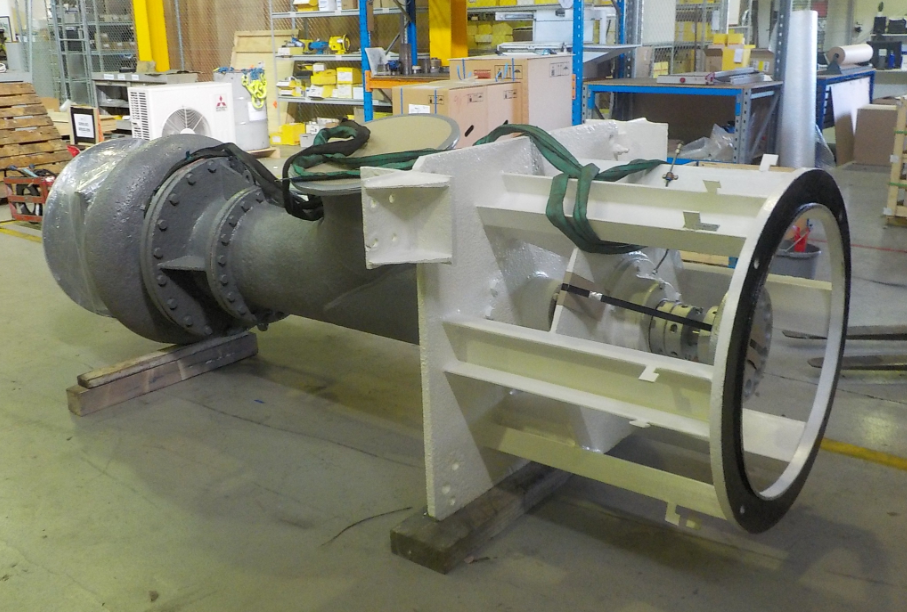 Pump ready for delivery and re-introduction to service
Looking out for efficiency optimisation
Pump rebuilds should be viewed as more than just a 'like for like' repair. Because of this, FITT Resources always ensures that the potential for efficiency increases are always considered as part of every pump refurbishment.
Further site work and efficiency performance studies should also always be carried out, as they are the best way of spotting bad-actors and potential faults.
To keep costs to a minimum, FITT Resources also recommends pump performance monitoring servicing within a program-based approach. This ensures that operating costs are kept at a minimum.