How to choose an efficient pumping system?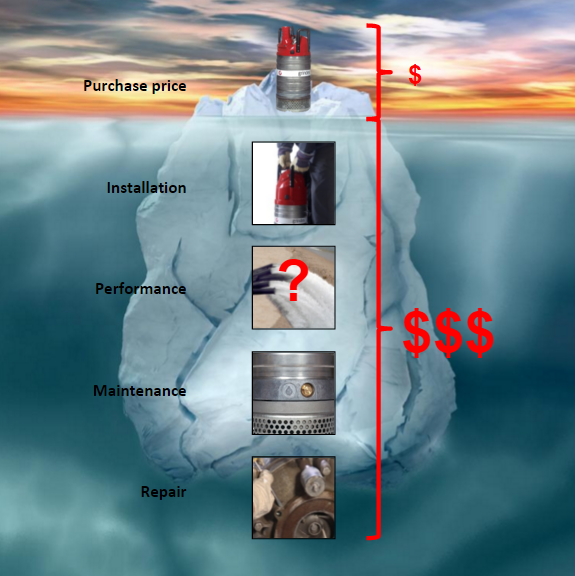 Pump equipment is a significant consumer of Australia's energy. Around 20 per cent of the country's energy supply goes towards pumping equipment. Because of this, improvements in pump efficiency can play a major role in reducing costs and helping to reduce greenhouse gas emissions.
According to The Pump Industry Australia (PIA) President, Ron Astall, increasing pump energy efficiency has been consistently at the forefront of PIA activities.
"There are significant energy saving opportunities to be had with pumps and pumping systems," said Mr Astall.
"Energy saving opportunities can be divided into equipment issues involving pumps, drivers, controls and process issues.
A report issued by the Victorian Government, Energy Efficiency Best Practice Guide Pumping Systems, states there is great opportunity for efficiency improvements in pumps, with design features and poor pump selection being the main reasons why maximum pumping efficiency is not always reached.  
Pump efficiency goes hand in hand with the quality of pump design, however pump manufacturers commonly focus on minimising capital costs or the chances of system failure, rather than focussing on increasing the efficiency of the pump. This is largely because contractors often chose a pump based on the initial cost, without much thought given to the lifecycle costs of running the pump.  
According to the report, energy and maintenance costs commonly account for 50–95 per cent of pump ownership costs over the lifecycle of the pump, with initial costs less than 15 per cent.
Chris Molloy, Pump Manager at Fitt Resources, said the amount of money spent on the initial purchase and installation of a pump is relatively small in relation to the energy and maintenance costs over the life of the pump.
"With an eye of the total cost of ownership, you are far better to spend a bit more on the initial purchase to get a well designed and efficient pump.
"Don't be persuaded by a cheap, less efficient pumping system as you will end up paying more in the end," said Mr Molloy.
Selecting a pump for maximum efficiency
According to the report, the average pumping efficiency in manufacturing plants can be less than 40 per cent with 10 per cent of pumps operating below 10 per cent efficiency.
Below is a list of common problems hindering the efficiency of the pump, and ways in which efficiency can be improved.
Unnecessary demand on pumping system
Reduce demand on system

Oversized pumps

Select pump that operates near to Best Efficiency Point (BEP)

Change impeller

Trim Impeller

Fit multiple-speed pump

Use multiple-pump arrangements

Fit lower speed pump/motor

Pump wear

Pump maintenance

Less efficient impeller

Change impeller

Inefficient pump throttling controls

As for oversized pumps

Fit adjustable or variable-speed drive

Inefficient piping configuration

Change piping inefficiencies

Oversized motor

Change motor

Inefficient motor

Change to high-efficiency motor

Lack of monitoring and/or documentation

Install monitoring

Conduct a survey
Energy savings in pumping systems of between 30 per cent and 50 per cent could be realised if problems are correctly identified and changes to equipment or control systems made.
Wear and tear
A pump's efficiency is reduced during normal operation due to wear and tear by as much as 10 per cent to 25 per cent after installation. Efficiencies of 50 per cent to 60 per cent or lower are quite common.
"The impact of wear and tear can be minimised with a regular maintenance schedule and quality assessment procedures," said Mr Molloy.  
In some pumping systems, inefficiencies are often not readily apparent to the operators, and opportunities to improve efficiency and save energy through the repair or replacement of components are sometimes overlooked.
FITT Resources choose efficient solutions
According to Chris Molloy, when choosing a Grindex pump, contractors can be sure that they are buying a highly efficient and good quality system.
"Grindex pumps perform with increased efficiency due to an enclosed impeller design requiring less energy to operate, as well as an advanced hydraulic design which preserves tolerance for sustained efficiency.
"Each pump is made from high quality materials, encased in a hard chrome suction cover. This added durability increases the pump's overall lifespan, and the easy-access casing makes inspecting the pump a quick and easy task.
"Each Grindex pump is also ISO certified in accordance with the ISO 9001 Quality standard. ISO 9001 assures conformance to specified requirements during design, development, production and servicing of a product," said Mr Molloy.
FITT Resources is the sole Australian and New Zealand distributor for the complete range of Grindex submersible pumps and accessories.
For more information on Grindex pumps, please visit our website.