Epoxy vs. polyurethane: Floored by a two-resin combination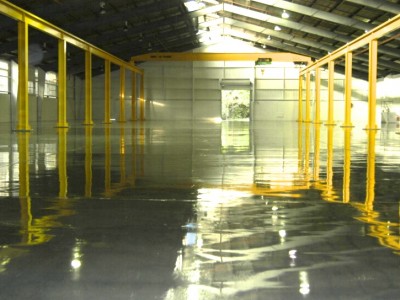 In the world of concrete floor protection, many a heated discussion has taken place over the relative benefits of two protective resins, epoxy and polyurethane.
Concrete floor coatings are used to improve the appearance of floors while protecting them from moisture, wear and chemical damage. A layer of resin is applied to the floor and then cured – the process whereby the resin hardens.
When choosing a resin to coat a concrete floor, companies want to make the best choice, which is usually reduced to either epoxy vs polyurethane.
However, perhaps the age-old question 'which resin is better?' might be better replaced with 'why not both?'

The experts weigh in
Bryant Allen, Hudco
Bryant Allen, General Manager at Hudco, the supplier for Fitt Resources' floor coatings, says that epoxy and polyurethane both have strengths and weaknesses, but the application process and the specific conditions determine which is best.
"Generally, epoxies are ideal for the primer and base coats of industrial floors as they are hard, durable and adhere well. However, polyurethanes deal well with chemical resistance and abrasion –  so they work well as the top coat of a floor coating," Mr Allen says.
"In most cases, it is best to use epoxy to build up floors and to then seal and protect them with urethane.
"With this setup, the floor will last about three times longer than epoxy by itself in terms of wear and abrasion.
"But every customer has different needs, based on how they will use the flooring and their intended outcomes."

Richard Arthur, Fitt Resources
Richard Arthur, Head of Regional Servicing at Fitt Resources, agrees that epoxy and polyurethane together are often the best option for their clients.
Mr Arthur says that for customers in the water industry, notable for its chemical use and high levels of moisture, a combination is most effective for protecting concrete floors.
"This protects the concrete floor for longest period and assists with providing water industry personnel with a safe work area," says Mr Arthur.
"Each job is different. Generally, we visit a site before preparing a quote, and once we have a full understanding of the customer's process and requirements, we will select the best flooring system for that individual application."
Fitt Resources offers both epoxy and polyurethane coatings and can combine the products.
Mr Arthur says the Fitt Resources team can plan, prepare and apply composites to a site, or can simply supply the composites so clients can apply the coatings on their own.
H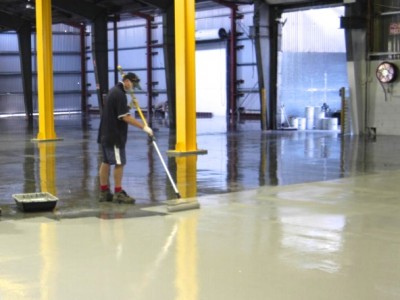 ow the resins measure up
Epoxy
If you want to resurface a concrete floor, epoxy is ideal.
It is versatile – able to be applied from as little as 2ml to as much as 80ml thickness. It can be used on worn, cracked concrete floors to make them look brand new.
Epoxy can also add colour to the flooring, or to use multiple colours to designate different areas.
But epoxies aren't merely about aesthetics, they also protect the floor. If the concrete is properly prepared and the coating is applied by experts, it is hard to beat epoxy in most conditions.
However, epoxy systems need to be applied over dry, clean, mechanically prepared concrete floors.
Epoxy floors are harder, more durable and have a high compression strength. This makes them ideal in heavy duty industries, such as warehouses with heavy forklift traffic.
Epoxy takes around seven days to cure, which makes it less flexible and less versatile.
Polyurethane
Unlike epoxy, polyurethane is not adjustable. It is rolled out with a thickness of around 2-3ml.
Polyurethane does not bond well to concrete, so it doesn't work effectively as the first coat.
Polyurethane coatings can handle consistently wet conditions and temperature swings that epoxy would struggle to withstand.
This makes it perfect for the food industry as it gives a water and heat resistant floor coating. As it is also chemical resistant, polyurethane works well in industrial settings.
The elasticity of polyurethane floors can make them resistant to scratching, as they absorb impact.
Polyurethane can cure in a couple of days, so it is easy to extend or add another coat.
Polyurethane is an excellent top coat and sealer for most epoxy floorings.

The full service at Fitt Resources

Jason Lynch, Fitt Resources Director, said his company had used numerous epoxy and ceramic coatings over the years to refurbish pump and valves, before starting the move into floor coatings.
"While working with many customers on their rotating and static equipment we saw that the infrastructure that was associated with their equipment was in need of reclamation and also protection.
"This then moved us into the epoxy and urethane coating for floors, tanks, bunded areas and water assets."
Mr Lynch said that the Fitt Resources was always looking for diversification and offering their customers a more complete service, not only rebuilding the pumps, the pump plinths but also the flooring with which the pumps were associated.
"The range of customers that we now work with is very broad and encompasses industries such as water and sewage, pulp and paper, mining and chemical processes.
"We complete many jobs now where we overhaul the pumps, rebuild the plinths and also coat the floor," Mr Lynch said.