A versatile solution for reservoir tank repair
Concrete structures such as water tank reservoirs can deteriorate over time when subjected to extreme weather, water flows or chemicals. When this occurs, rehabilitation and seal repair is essential to strengthen the structure and improve its service life.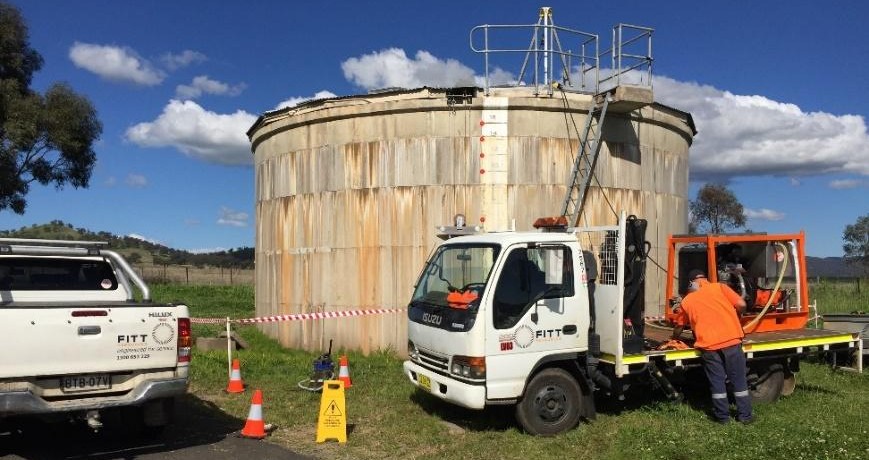 A deteriorating asset
FITT Resources was recently contracted to carry out repairs on a water reservoir tank in regional New South Wales which had deteriorated with age.
Due to deterioration of the wall construction joints and the floor-to-wall joints water was leaking from the structure. This leakage was causing a significant and costly loss of water.
The reservoir tank was located on a main entry road into a town but due to deterioration its external appearance had become an eyesore.
Numerous attempts had been made in the past to repair the external and internal walls including a complete fibreglass internal coating, but none of these works had successfully sealed and repaired the asset.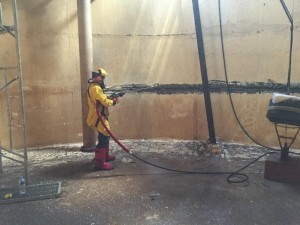 A unique system solution
In order to complete the repairs, FITT began by draining and isolating the reservoir tank to allow equipment and personnel access inside.
Ultra high pressure (UHP) water blasting equipment was used by FITT's trained operators to remove the existing failed coating system and expose the construction joint seals.
Once the construction joints were exposed, a diamond grind was used on the joints to prepare them for repair with Peerless Industrial Systems's KIS flexible epoxy grout and caulking system. KIS primer was then applied to either side of the filled construction joint and left to cure.
When the primer had cured, the specially woven KIS fabric was impregnated with the KIS binder and placed over the construction joint and primed areas. This created a bridge and a secondary flexible seal that was able to expand and contract as the concrete moved.
Once this bridging system was cured, a final strip coat of high-build protective sealing was applied to combat corrosive conditions and create an additional edge seal for the KIS fabric.
According to Richard Arthur, Head of Regional Servicing at FITT Resources, KIS was chosen for the repair work because of its versatility. It had been used successfully in the past for functions such as bridging cracks, overlaying joints, wrapping pipes and sealing tank internals.
"KIS has a truly unique system that has extremely high elongation to deal with installations that may exhibit uncontrolled movement or may simply benefit from a fabric reinforced lining.
"It was ideal for the project as it is suitable for concrete and steel substrates, and posses exceptional water resistance as well as resistance to a broad range of chemicals. It is also approved for use in potable water structures."
No longer an eyesore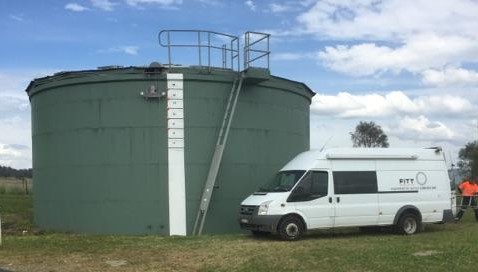 Once FITT Resources completed all internal repairs, the external walls were cleaned using a UHP water blast. This prepared the surface for the application of a sunproof exterior concrete paint with airless spray paint equipment.
The level indicators were stencil painted to finish the job.
"We chose to use concrete paint with UV protection as it will protect the external surfaces from the effects of long-term weathering, and keep it looking good into the future," Mr Arthur said.
After the repairs had been completed the reservoir tank was recommissioned and a final leak inspection was carried out.
The inspection produced positive results with FITT Resources successfully sealing all leaks in the water reservoir tank.