What makes Chesterton DualPac 2211 Packing Technology So Special?
Chesterton continues to lead the way in the development of sealing technology, and its new DualPac 2211 gland packing sets the bar even higher when it comes to achieving product standardisation, lower operating costs, reduced maintenance and longer life, especially in severe slurry applications.
DualPac 2211 — a unique combination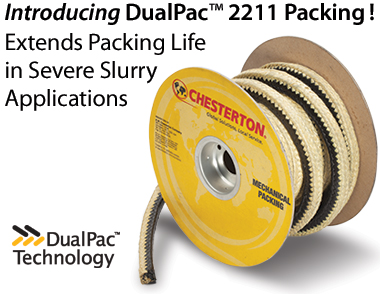 One of the factors that makes Chesterton DualPac 2211 gland packing unique is that it's produced from a combination of two materials — aramid and PTFE.
Aramid fibres are consistently tough and resilient, but can nevertheless fret shafts and sleeves because they have high friction. PTFE (or polytetrafluoroethylene) produces less friction and therefore causes less damage to shafts, but at the same time can extrude. In each case, consolidation can result, which in turn means leakage and the need for frequent packing adjustments.
However, while this combination of material is not new to the sealing industry, Chesterton DualPac 2211 combines the two materials equally so that the same packing can be used for both end and sealing rings. The braiding together of the high strength aramid and graphite-filled PTFE half and half therefore produces superior sealing and low friction, combined with high strength and resilience.
Chesterton DualPac 2211 Applications
Chesterton DualPac 2211 packing has been developed specifically for use in general and severe service. It is ideal for pumps that are put to work in aggressive slurry applications, such as ore and mineral handling, and in a range of dewatering applications as well.
Using DualPac 2211 technology means that you are combining the high sealability and low friction of PTFE with the strength of aramids, and this results in limited consolidation and extrusion, along with minimal shaft wear.
There is also the advantage of being able to configure DualPac packing to the precise requirements of your application by placing the tougher, extrusion-resistant aramid at either the top or the bottom of the stuffing box. This also removes the need to install different packing for end rings, while the reduced contact with the shaft means less wear, which in turns leads to significantly less downtime.
Benefits of Chesterton DualPac 2211
Chesterton specialises in developing sealing technology that lowers the cost of ownership, and its innovative DualPac 2211 gland packing is no exception.
For instance, DualPac 2211 achieves longer packing life through being gentler on shafts due to low friction, while consolidation and extrusion are resisted. Because the two materials are braided half and half and are both able to be used as both end and sealing rings, this packing is well suited for equipment where stuffing box clearances have become worn and extrusion of standard packing is an issue. There is also significantly less process fluid leakage (as much as 90% less), and fewer gland adjustments are required, further reducing operation maintenance of glands.
In addition, the amount of power required can also be reduced by as much as 33% over traditional packing materials that use aramid on the dynamic surface, and less maintenance is required because the packing breaks in quickly and, once in use, expands easily under gland load.
Another significant benefit is that DualPac 2211 packing can be used in range of different applications, meaning plants can cut back on the number of different packing materials required. Likewise, the same packing can be used for both end and sealing rings, and so these two factors combined can significantly reduce inventory and operating costs. In order to get the right configuration for different applications, a free DualPac T 2211 Configurator app for both iOS and Android smartphones and tablets is available to download.
Chesterton is also in the process of releasing other new gland packing that likewise effectively combine different materials into a single product.
FITT Resources for Chesterton Seals and Packing in Australia
Contact FITT Resources to find out more about our ranges of Chesterton seals and gland packing available throughout Australia. Call on 1300 653 229 or email us at contact@fittresources.com.au.