Organising site personnel in a flash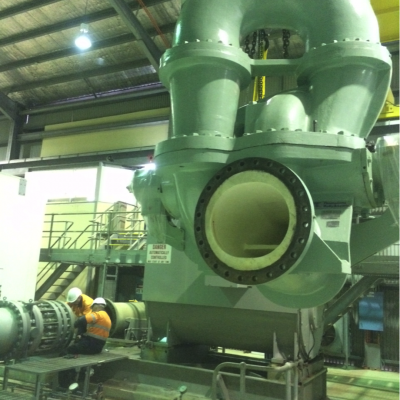 When annual servicing works at a major pulp and paper manufacturer in Tumut (NSW) turned out to be much larger than expected, FITT Resources' Servicing team rose to the challenge, bringing close to 50 team members onsite within a tight timeframe.
Orchestrating a large team
The manufacturer had originally requested 10 to 20 FITT servicing personnel to carry out a range of engineering tasks across their site, as part of a larger number of site servicing duties to occur during their major annual shutdown.
According to Greg Fowler, Managing Director at FITT Resources, when the manufacturer realised the need for more labour, FITT volunteered to source the large team of tradespeople at short notice.
"We put our hand up to help source and mobilise more workers given the strong network of skilled tradespeople we have across the county.
"We started by contacting people who had completed other projects with us; tradespeople who understood our core values of safety and quality outcomes for our clients.
"We organised accommodation for each of the new workers, no easy task in a small town like Tumut, particularly when many places were already booked-out due to the shutdown.
"Orchestrating the larger team involved more than just getting a bigger headcount, we also had to manage all the paperwork to allow new personnel to work at the site."
Mr Fowler said that once everyone was onsite and ready to work, teams we formed and supervisors assigned.
"Team supervisors were in constant communication via mobile phone and two-way radio to ensure continuity across the site and Tool box meetings' were held each morning prior to work commencing.
"During these meetings, safety and task related issues were discussed and clear goals for what each of the teams should achieve for that day were outlined."
Work required
Engineering tasks to be carried out by FITT Resources during the shutdown varied across the site and included the removal and reinstallation of pumps, gearboxes, valves, pipework and other associated tasks including specialised welding applications.
"We were also asked to complete laser alignments when pump equipment was re-installed to ensure that the motor to pump alignment was well within equipment standards."
Previous shutdowns
According to Mr Fowler, the FITT Resources team has been involved in the manufacturer's four previous annual shutdowns, with the most recent shutdown the biggest to date.
"This most recent shutdown, completed in November 2015, was by far the biggest one to date, three to four times bigger that previous shuts."
According to Mr Fowler, as the site is in continual operation, the only time major work, repairs and upgrades can be completed is during this annual ten-day shutdown.
"The paper mill is in operation all day everyday, so the only other shutdowns besides those due to pump emergencies occur once per month for six to twelve hours in isolated sections of the plant.
"Because of this, the major annual shutdown is the only time the plant comes completely offline."
The outcome
According to Mr Fowler, at the completion of the shutdown, feedback from the manufacturer was excellent.
"Everything was achieved within the allocated timeframe without any safety or quality issues.
"We were thanked for our efforts in delivering a successful outcome, particularly our ability to increase the number of people on our team at the last minute to ensure all maintenance works could be completed.
"Our ability to source high quality labour in a short timeframe, and deal with the logistics of getting those people up and running quickly, really stood out to the manufacturer as a fantastic achievement."