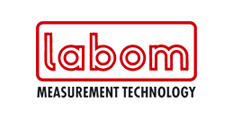 Instruments made to measure. For over 40 years LABOM has been one of the leaders in quality for industrial pressure and temperature measurement technology. The German company specialises on the measuring and monitoring of pressure and temperature as well as the values, such as fill levels and flow rates, derived from them. LABOM devices are in service all over the world.

Mechanical pressure measurement
Pressure gauges with electrical contact device
Electronic pressure measurement
Diaphragm seals
Servicing
food/pharmaceutical / biotechnology
chemicals / petrochemicals
power generation
water and waste water
shipping industry
paint shops
Our product have robust casings that can withstand rough service environments, aggressive media, high process temperatures and the highest safety requirements.
You can attach smart communication systems to electronic instruments and put them to work in any process environment. A high degree of accuracy coupled with reliability over many years service are the primary quality requirements that every Labom process instrument must satisfy.
For more information, contact FITT Resources on 1300 653 229 or email us contact@fittresources.com.au