FITT servicing skills up with Daniel Hechter
Daniel Hechter, former National Mechanical Equipment Manager for Caltex, said it was the overall potential and scope of work undertaken by FITT Resources that inspired his recent move to head up the company's servicing division.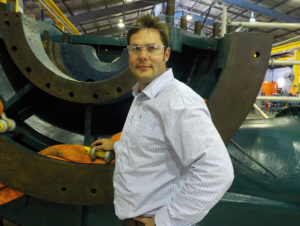 As an expert in rotating machinery, Mr Hechter sees a strong future for the division, commenting on the company's ability to push the status quo, take on new challenges and complete them with outstanding quality of execution.
"My previous experience in the rotating equipment field was a great complement the FITT services division," Mr Hechter said.
"Over the past 15 years working with all kinds of rotating equipment from compressors, turbines, fans and gearboxes, I have been part of various installations, commissioning and maintenance projects all over the world and in a variety of industries.
"I have been very lucky to travel the world partaking in installation and commissioning activities for Thomassen compression systems through Europe, Africa, Middle East and interesting parts of Asia.
"Some of the challenges across these years have been sugar mill (T&I's) across three mills simultaneously which added a lot of complexity to the logistics including commissioning phases.
"Another big challenge was performing optimising and streamlining of factory machinery for the cable manufacturing industry, which had me move, re-install and align 60 metre tube stranding machines in very short time frames ensuring production was kept on schedule.
"During my time at Caltex, I had the fortunate opportunity to be part of various capital works programs / upgrades from new terminal infrastructure to optimisation initiatives. This brought me into contact with complex control and operating system,s for example the Sydney Newcastle fuel pipeline surge scenarios and rectification."
Currently, FITT Resources provides overall maintenance and servicing packages for all types of rotating equipment across Australia including:
complete in-house pump rebuild facilities including blasting, metal repair, machining, balancing and performance testing

pump refurbishment both on and off site

valve refurbishment and valve repacking shut-down services

white metal bearing refurbishment including complete re-metalling, redesign and manufacturing

pipe work fabrication and associated engineering tasks

shut-down maintenance services

specialised trade labour resources for shut-down and plant maintenance

project supervision and shift coverage

rotating equipment overhaul and commissioning, including fans and gearboxes

laser alignment.
"The FITT difference is that we will take on any challenge and we will work until we get it right. We don't just sell a product, we sell a service, and that service is to solve problems for our clients.
"We have a wide range of services and we've shown that with the combined skills and expertise in our team, we can take on any task that comes our way.
"We are always looking for ways to improve on current industry practices, to make things more efficient, better quality and more cost-effective for our clients.
"Our determination to explore and tackle new challenges head-on is enabling us to expand our horizons," said Mr Hechter.
The future of FITT
Mr Hechter sees the FITT servicing division expanding, taking on bigger jobs with even greater variety.
"As a company, we want to focus on offering tailor made solutions that include designing, manufacturing, installing, commissioning and servicing of equipment.
"We want to be known as a leader in our field who can work on all rotating equipment not just pumps," said Mr Hechter.
About Mr Hechtel
Mr Hechter is an expert in the field of rotating equipment. He began work at an installation and servicing firm similar to FITT in South Africa, that soon saw him travelling the world as a commissioning engineer. This experience led him to Australia whilst completing commissioning work for Thomassen Compression Systems and later on Caltex in Sydney. He worked as a project manager for Caltex on refinery and distribution assets before being national mechanical equipment maintenance manager.
Having previously worked with members of the team at FITT, and after seeing the potential of the servicing division, Mr Hechter decided to jump on board.
"I met the team at FITT four years ago whilst working for Caltex on their fuel pipeline. We kept in touch and when the opportunity at FITT opened up, I decided to take it.
"For me, my career has enabled me to build knowledge at the servicing, manufacturing and installation spectrum through to the operation side of things at Caltex.  
"I feel that I am now back home again at FITT. Every step you take you gain a bit of experience and exposure to new things, and I feel excited to bring this knowledge to the FITT servicing division. We have already had a couple of very interesting projects thrown our way so watch this space," said Mr Hechter.