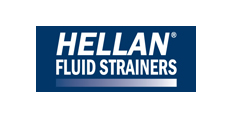 The Hellan Strainer's unique, patented, self-cleaning design is used in the steel, petrochemical and power generation industries for protection of cooling systems and other applications. In 2000, Hellan was made a subsidiary of the Vesper Corporation as The Hellan Strainer Company.

Manual or Automatic fluid strainers
A variety of screening / straining options
Instead of trapping solids in a basket which must then be removed for frequent clean-outs, the Hellan Strainer removes solids from the fluid flow without stopping the flow or disassembling the strainer. A simple turn of the hand wheel (or actuation of the screen motor in automatic units) rotates the screen against a scraper bar. Debris moves to a sump area where it is removed by periodic flushing.
Low operating costs
Safety for employee personnel
High quality construction
Meet or exceed major ce/ped, and international standards
Material of construction for a variety of applications
Low maintenance costs
Low installation costs
Manual or automatic operation
Low capital investment
Hellan Strainer full catalogue
For more information, contact FITT Resources on 1300 653 229 or email us contact@fittresources.com.au