Energy efficient dredging with mini dredges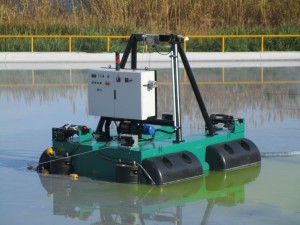 Dredging plays an important role in restoring and maintaining bodies of water. But it's an energy-intensive operation and with energy prices rising there is a need for equipment that is efficient and reliable to help decrease operating costs.

Dredging is used to remove excessive sludge and sand that overloads bodies of water, such as ponds, lagoons, dams and canals, to increase their operational efficiency.  
According to Chris Molloy, Dewatering Manager at FITT Resources, Dragflow's DRP dredge is an automated system that reduces the cost of operation while improving productivity.
"The DRP dredge is a portable, cable dredge with a submersible pump and has been designed to address a number of problems typically associated with dredging including energy efficiency, wearing of parts and safety."
An energy efficient solution
Dredging and solids reclamation are energy intensive operations. With high energy prices, end-users are looking for equipment that is efficient and reduces energy usage to help contain operating costs.
Dragflow's DRP dredge is made with a double blade agitator with pump suction that makes direct contact with the material being dredged.
This feature allows the dredge to move slurries with a solid content up to 70 per cent. With the ability to move a high concentration of solids the dredge moves less water.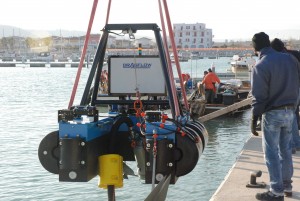 This allows the possibility to work with smaller diesel engines and discharge pipe diameters, resulting in reduced operating costs while also keeping daily total production at the same level as larger cutter suction dredges.
Productivity is further improved with the DRP dredge's pumping capacity of up to 600m³/h and delivery distance of up to 1km. It has a working depth of up to 100m with power from five to 150 HP.
A challenging mixture
One of the challenges for dredge pumps is the requirement to carry water mixed with abrasive soils, including fine and coarse matter, and other debris. This can lead to more frequent part replacement and maintenance due to excessive wear.
The DRP dredge is designed to have a high abrasion resistance with wear parts made from high chrome and the use of a low rotation speed. These features extend the time between component replacement and maintenance.
Another challenge to pump performance is the varied size distribution of pumped materials. This can lead to the clogging of impellers and suction pipes, especially when dealing with larger materials, resulting in expensive maintenance and downtime.
The DRP dredge can handle solids from 20mm to 90mm, reducing the chance of clogging.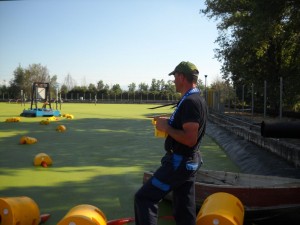 A safer dredging solution
The DRP dredge is an electric dredge designed to fit in a 6m (20 foot) container.  It is easy to transport, assemble and use, and doesn't require equipment to be dismounted and remounted when moving between locations.
"The DRP dredge is remote controlled which means less manpower as an operator does not need to be on the barge to control it. This reduces operating costs and makes it safer than other dredges that require a controller to be on the machine to operate it," Mr Molloy said.
"Operators are still able maintain control of dredging activities from up to 500m away by receiving an instant view of working depth and pump load on the remote control unit.
"Additionally, it can be integrated with GPS technology to track working activities and register the history of dredge pump operations."
A versatile solution
Due to its mobility, the dredge is able to reach remote locations that other dredges are unable to reach. It is ideal for harbour dredging or dredging of natural water bodies due to the low turbidity created during operations, which allows the removal contaminated sediments without harming the surrounding environment.
The dredge can also be used across a number of other sectors including industrial, chemical and mining.
For more information contact FITT Resources or visit https://fittresources.com.au/dragflow-pumps/.